1 (207) 951-8285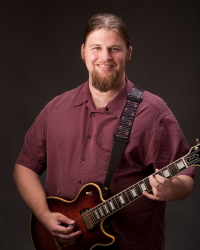 Guitar
Jeremy has played guitar ever since the age of 13, but has been a fan of music his entire life. Early influences like Jimmy Page, Ritchie Blackmore, Eric Clapton, and Eddie Van Halen provided an amazing amount of music to study in the early years. Later influences like Jimi Hendrix, Robben Ford, and Jeff Beck provided more amazing musical epiphanies on the guitar.
Jeremy has a Bachelor's Degree in music, and has played a variety of music to audiences across the Northeast, but in some cases as far as Dallas, Texas.
When teaching, Jeremy provides individualized lessons to each and every student, in a calm, relaxing, professional atmosphere. No student is the same, therefore, no lesson will ever be the same. Whether it is Miles, or Metallica…Led Zeppelin, music theory, or fretboard technique, the lessons always take place in a laid-back, encouraging environment.
Jeremy also teaches Bass Guitar & Ukulele. Click here to sign up for lessons!